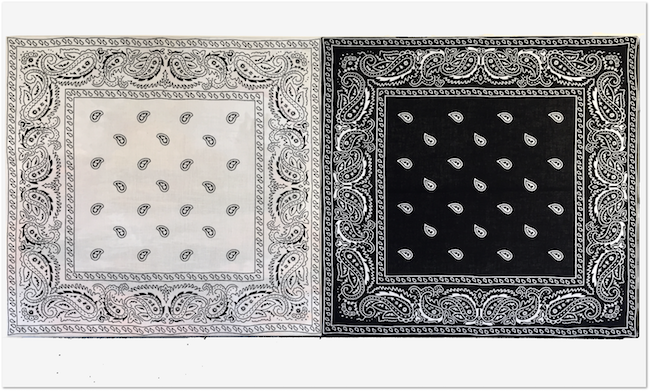 June 24-July 22 2017
Choice Paralysis | Paintings by Eli Walker
#FFFHEX contemporary art gallery is pleased to announce Choice Paralysis, a solo exhibition of new paintings by Eli Walker. There will be an opening reception and an opportunity to meet the artist on Saturday, June 24, from 6-8PM. The exhibition will be on view through July 22.
Walker considers the state of over-thinking a situation so that a decision is never made, noting the difficulty of choosing a movie to watch (even as limited by a parameter such as release in 1981). His abstract paintings present the viewer with a dizzying array of works similar in scale and method. Each piece is covered by a translucent black or white bandana so that only a hint of color can be seen. The bandanas' paisley motif has roots in a Persian heavenly tree symbolizing life and eternity. The pattern was spread across the globe by pirates, popularized by American cowboy entertainers, and adopted by street gang culture.
Walker's shrouded paintings evoke the century-long discussion on the death of painting. However, these paisley veils also recall the idea of resurrection and a cautious optimism amid hundreds of ways of escaping his anxiety.
Eli Walker (b. 1981, Texas) is an artist and the director of Basketshop Contemporary Gallery in Westwood, OH. He received his BFA from School of the Art Institute of Chicago and his Masters of Fine Arts from Maryland Institute College of Art. Walker has exhibited his work at Cydonia Gallery, Usable Space, Green Gallery West, Galleri Urbane, University of Dallas, and Angstrom Gallery. His work has been written about in Art in America, Arts + Culture Magazine, and FDLuxe. From 2012-2016, he co-directed Homeland Security Gallery in Dallas.
Pictured Above: Left, "Raiders of the Lost Ark" right, "Clash of the Titans" each 18 x 18.5 inches, 2017